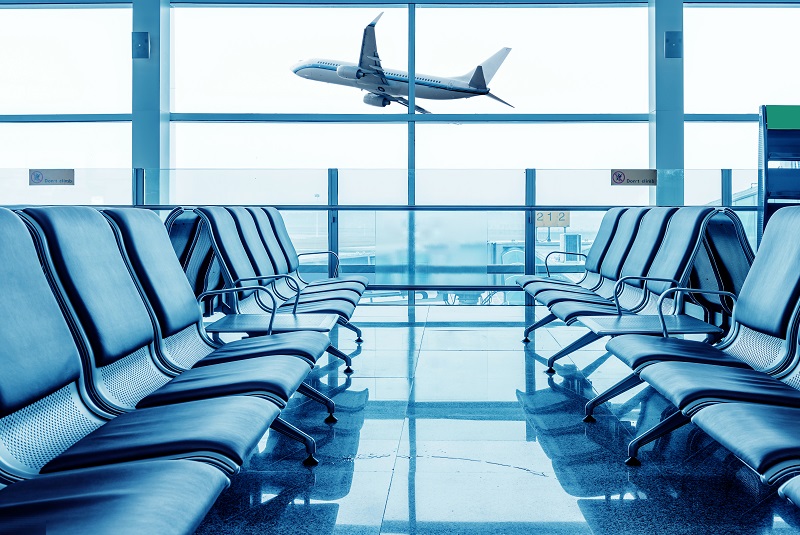 The COVID-19 has been a pandemic like none ever. It has impacted supply, demand and the entire global economy. It has led the world to a 'new normal', which places hygiene and infection control over everything else. Today, as facilities gear up to 'reopen' after the pandemic, their operations and perceptions have changed altogether. And, airports are no exception. Travel restrictions may have started easing up, but there is an undeniable monster out there, and travellers need to be protected from it. The onus of this mammoth responsibility lies largely on the airport authorities.
The entire GCC region is home to some advanced and breathtaking airports, including Dubai International, King Abdulaziz International, etc. These facilities, once abuzz with high footfall, are more or less empty due to the COVID-19 pandemic. It is expected that GCC airports' traffic will be cut by 59 million passengers - around one-third - to 115 million. The number of flights will also experience a similar decline — down 360,000 flights - or onethird of the total - to approximately 700,000 for 2020.
Preventing contamination
Once travel resumes, however, airport authorities will play a critical role in reviving the missing buzz of the airport and regaining traveller trust. When travel restarts in full swing, travelers are expected to display different behaviors and habits for preferred destinations, health and hygiene preferences in airports. Already, many GCC airports have adopted new screening procedures and sanitation initiatives, although in the short term this has meant increased costs without any corresponding rise in traffic.
Considering enhanced hygiene, cleaning & disinfecting requirements and adjusting the number of staff allocated for cleaning based on flights and passenger volume, Initial Saudi Group has implemented significant new measures for The Riyadh Airport: Terminal 05 (Domestic), 01 & 02 (International) and offices buildings.:
1. Hand-washing facility with running water and soap.
2. Provision of alcohol-based hand sanitizers.
3. Maintaining physical distancing between employee and passenger.
4. Dedicated team assignment for the disinfection of each premises (Immigration Counters, Luggage and Waiting Areas).
For Muscat International Airport, too, the concept of cleaning and hygiene has completely changed - in fact it has become a priority. "It is now essential that each and every area of the airport is disinfected more frequently. To achieve this goal, it has been necessary to implement new cleaning methodologies, such as fogging disinfection, as well as the training and awareness of the cleaning staff to ensure that each area and corner of the airport is disinfected, and thus avoid infected objects and therefore transmission to passengers and airport staff," says Salim Ali Hamad Al Harthi, GM Aviation, Muscat International Airport.
Ensuring the safety of cleaning staff and travelers
The most important step in operating a postpandemic airport is to ensure the safety of the cleaning staff, and this comes with proper awareness. It is essential that the staff understands the symptoms of the virus and how it is transmitted. This knowledge is essential for them to avoid being infected and to apply an effective approach towards cleaning and disinfection.
The safety of the staff starts from their accommodation, where strict measures of hygiene must be implemented. These include social distancing, appropriate PPE usage and disposal, continuous temperature checks, isolation protocols in suspected cases and close contacts.
Habib Ahmed, Chief Operating Officer, Central Region – KSA, Initial Saudi Group, shares interesting measures being adopted to ensure staff and traveller safety:
• Before each shift, the staff is tested prior to reporting the site.
• At the site they are briefed about the usage of masks, gloves & sanitizers in detail. They are also reminded to maintain appropriate social distancing while executing any task.
• Passengers signs are in place with MOH guidelines in all facilities including seating chairs, check-in counter, boarding gates, and elevators to avoid infection transmitting.
• Adequate numbers of hand sanitizer stations are available throughout the airport with noticeable signage for passengers and staff members to be used frequently.
How is cleaning staff trained?
• The airport cleaning staff must be trained on the following parameters:
• Awareness about to COVID-19 and how it spreads.
• Proper usage of personal protective equipment.
• The hotspots to be disinfected.
• Education about workplace safety and social distancing.
• Reporting of COVID-19 symptoms.
• Disinfection and cleaning processes to be followed.
• Personal hygiene.
Daily briefings and regular training for everyone (cleaners to managers) are a part of the routine at the Muscat International Airport, to ensure that everyone is aware and rows in the same direction. "A solid knowledge of the virus is essential to effectively combat it," says Salim Ali Hamad Al Harthi.
Main hotspots to focus on
• Information desks
• Check-in counters
• Immigration counters
• PBS systems
• E-gates
• Seating chairs
• Washrooms
• Escalator & elevator railings
• Screening trays
• Doors
• Boarding gate
• E-boarding
• Passenger waiting areas
• Luggage trolleys
• Travellators
New technologies and exclusive hygiene measures
Habib Ahmed, Chief Operating Officer, Central Region – KSA, Initial Saudi Group, along with Project Manager for Riyadh Airport, Edy G. Zougheib and Romiz Uddin, Projects Lead Riyadh Airports have made use of various cleaning equipment that have helped reduce staff's feet on the ground and also brought efficiencies. For disinfection, they have recently identified the right technology to be utilized soon.
In addition to this, a designated disinfection chemical has been in use for all the facilities in the terminal and recommended EZ alcohol-based sanitizer sufficiently in place for both employees and passengers. N-95 masks have also been used for high traffic facilities such as the GID screening area.
The new challenges
• Restoring customer confidence in travel by ensuring it implements social distancing and conducts thermal screening and Covid-19 testing.
• The airport operator also said that it will carry out stringent deep-cleaning and sanitisation, which will help to ease passengers' concerns.
• Maintaining social distancing once travel is in full swing.
• Ensuring that the areas are not accessible by anyone during the disinfection, especially while using fogger machines.
However these challenges are expected to be met with some amazing innovations as airports around the GCC head towards the "new normal."