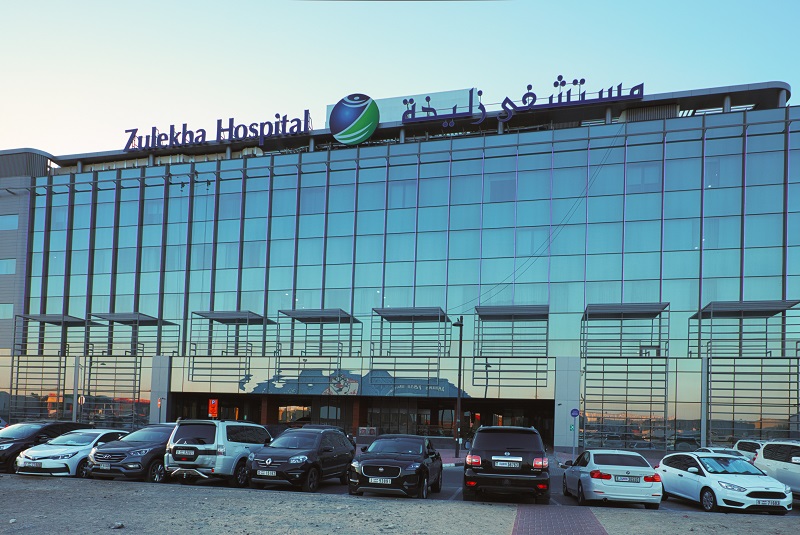 ---
According to the World Health Organization (WHO), 1 in 10 patients are infected while receiving medical care in a hospital. Hospitals can be a breeding ground for germs and bacteria, including the Methicillin-resistant Staphylococcus aureus (MRSA) infection which can cause serious bloodstream infections in people who are sick with other diseases and conditions.
With the COVID-19 pandemic also proving a genuine threat in the past 12 months, the importance of infection and prevention control had never been more important, with a clean and safe environment essential in the prevention of transmission of infectious diseases, germs, viruses, bacteria, and microbes to medical staff, patients and visitors.
Main changes for infection and prevention control In light of the pandemic, Zulekha Healthcare Group, one of the leading healthcare groups in the UAE, is operating on surge capacity protocols and has doubled its routine cleaning and disinfection efforts, while stressing the importance of sanitizing and disinfecting frequently touched surfaces to prevent the spread of highly contagious and deadly viruses.
In an effort to prevent crosscontamination and keep the premises free of contagious viruses, Zulekha Hospital has advanced protocols in place, including:
• Segregation of patient care areas into COVID-19 and non- COVID-19 areas
• Dedicating staff for patientcare areas to limit spread of infection among patients and staff
• Developing a special workflow for staff in COVID-19 care areas; from entering the hospital to exiting. Dedicated entrances and exits, elevators, changing rooms, provision of refreshments in care areas were provided
• Distribution of PPE directly brought under the control of the infection control team
• Continuous cleaning at the beginning of each shift with emphasis on high touchpoints
• Disinfecting work areas at hourly intervals
• Terminal cleaning performed at patient discharge and end of shift
• Frequent rounds and monitoring of all areas carried out by supervisory staff to ensure proper disinfection and sanitization.
"At Zulekha hospital, we deploy regular cleaning and disinfection of high-touch areas at frequent intervals during the day. Housekeeping staff are dressed in the best PPE available to ensure their own and others' safety. Limiting air pollution is also our key focus as a JCI-certified healthcare provider, and air disinfection is also carried out in a scheduled manner. We ensure the proper disposal of contaminated materials safely, while proper hand washing techniques and sanitizer use are encouraged to prevent spread of infection," says Dr. Shoaib Hasani a Specialist Microbiologist at Zulekha Hospital Dubai.
The challenges
The pandemic has shaken the healthcare industry globally. Healthcare providers have faced a battle to limit the spread of the infection, and to contain the spread of the MRSA superbug within their facilities.
Hospitals also faced shortages of sterilized paper products, disinfecting solutions, and/or lack of personal protective equipment (PPE) for staff, with supply chain issues arising because of increased consumption and urgent demand.
• Issues experienced by the healthcare industry during the pandemic included:
• Difficulty in accommodating the ever-increasing demand of services and medical facilities
• Increase of workload for medical staff
• Maintaining and expanding institutional capacity
• Shortages of disinfectants and hygiene supplies and solutions
• Anticipated ventilator shortages
• Higher costs and decreased revenue
• Service providers unable to keep up with demand, or going out of business.
Zulekha Hospital braced for the pandemic early on by partnering with Fine Solutions, the awayfrom- home division of Fine Hygienic Holding (FHH), one of the world's leading wellness groups and the MENA region's leading manufacturer of hygienic products. Through this partnership, Zulekha Hospital was able to ensure a consistent and smooth supply of disinfecting solutions and sterilized paper products when the pandemic was at its peak. With Fine Solutions providing superior disinfecting and hygiene solutions, Zulekha Hospital could combat the virus and keep their premises free of germs and viruses.
Becoming a Medical Wellness Association (MWA)-approved hospital
Fine Solutions designed the Medical Wellness Association program to recognize and showcase medical institutions in the region that adhere to the highest levels of hygiene standards. Once enrolled, medical facilities undergo a thorough evaluation conducted by Fine Hygiene experts who then recommend and install world-class hygiene solutions and sterilized products, such as sterilized facial tissues and hand towels.
Factors considered by Zulekha Hospital in choosing a reliable partner for all hygiene solutions
• Innovation
• Availability of sterilized products
• Reputation
• Efficiency
• Supply chain
• Ease of use
• Ease of procurement
Partnering with Fine Solutions
Fine Solutions, the away-from-home division of Fine Hygienic Holding, is known for its uniquely sterilized tissue products, diapers, and adult briefs – equipped with an integrated system to lock wetness and prevent any possible skin irritations.
Amidst the pandemic, Fine ensured an adequate supply of sterilized paper products using the patented SteriPro technology, which kills 99.9% of germs and viruses during the manufacturing process. Zulekha Hospital also started acquiring alcohol, non-chlorine, and chlorinebased disinfectants for the routine and deep cleaning of all hospital areas.
Fine Solutions' supply process proved efficient in balancing the hospital's demand, with adequate stocks readily available to fulfill requirements. Fine Disinfection Services and washroom hygiene services proved extremely effective in maintaining hospital hygiene levels. Thanks to its state-of-the-art disinfection services, the premises remain free of any germs and viruses.
"Fine Solutions has been able to meet our supply needs very well during the pandemic, with continuous communication and availability of products. The ongoing urgent needs for high-quality hygiene products were uninterrupted. Through the pandemic, the commitment from our Housekeeping Staff and Infection Control team has also been noteworthy, despite all the challenges, they have ensured 100% compliance to protocols," says Dr. Shoaib Hasani.
The close-working relationship between Fine Solutions and Zulekha Hospital resulted in an efficiently running hospital, ensuring wellness and good hygiene during one of the worst healthcare events across the globe.