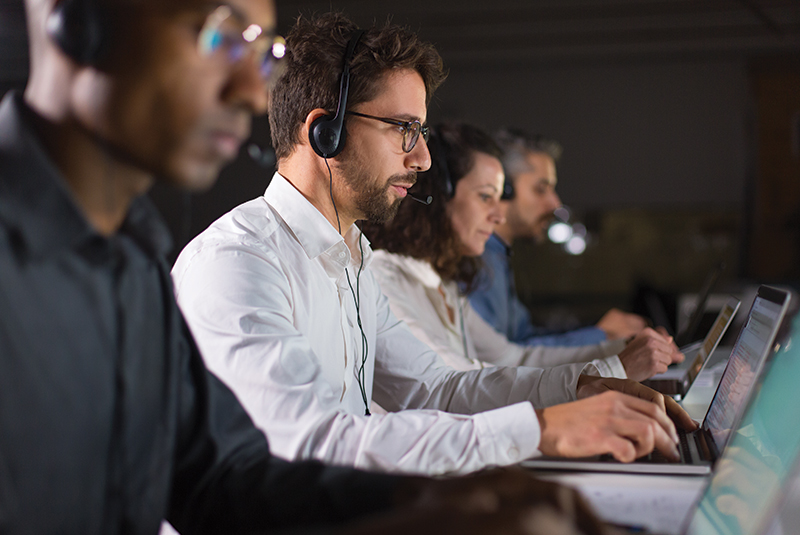 No matter what industry or field you work in, there are many examples of customer service. It is easy to see when and how good service is delivered to its customer, and even easier to see when it is poor. As a supervisor, it would be part of your role to understand what it is your customer requires. You can never do enough for your customer, but you can compromise your company's bottom-line if you are too exuberant and generous.
On the other hand, if the customer feels that you are not giving enough or appropriate service then you may find that a contract is put in jeopardy. A balance needs to be struck in all cases. So that you deliver a service, which will meet the needs of all, you must understand what is needed first. Your company should support you in the early days with the appropriate training to enable you to have the right practical skills. Your line manager should give you day to day support as s/he will have a good understanding of what is required to ensure the smooth running of a contract.
Who are your potential customers?
Customer

Employees of the customer and key suppliers for your customers' services

Suppliers; postman, delivery drivers, service contractors

Government agencies (HSE, etc), council employees

Internal departments

General public

Your colleagues who may visit your customers' site as a sub-service.
The list is not exhaustive and can be expanded upon depending on your business.
What are your customers like?
From the list in the previous section, it is clear that although customers are diverse, they will all have similar wants and needs:
They are interested in themselves and want to be noticed.

They crave feeling important and appreciated.

They want to deal with people they can trust.

They expect a certain level of service from you and your team.

They judge you and our organisation on first impressions.
When we talk about customer service, one thing is always obvious; our customers want to be treated the same as we do when we are the customer. You would not expect to be treated differently if situations were reversed.
We can list all the things that as a customer we would want from a supplier. It should be the same as the ones our customers have.
Please do not ignore me.

Please make me feel wanted.

Please do not lie to me.

Please give me clear information.

Please do not insult my intelligence.

Please keep your promises.

Please do not keep me waiting.

Please be sensitive to my needs.

Please treat me fairly.
You will notice that all the statements begin with please; this is because we always expect a level of courtesy; but unfortunately, sometimes we do not receive it. Good manners and politeness are key components and should not be taken lightly in any situation.
Think back about your experiences and try to recollect times when you have had good service and bad service. In each situation how did you feel? When you look at the reason and words you used for your unpleasant experience, can you understand how your customers may feel? Remember you are a key worker and what you do and say can affect your relationship with your customer and, in some extreme cases, your company. Put yourself in their shoes and try to gauge your response accordingly.
Dealing with customer complaints
Undoubtedly, you will find yourself in a situation where the customer has a complaint. Regardless of the legitimacy of the complaint, it will need to be dealt with. Your manner should be sympathetic and understanding, without giving away too much or too little. Each case should be dealt with on its own merits, and each person should be dealt with as an individual. You need to listen to the argument and act on the complaint within the scope of your work. You should avoid at all costs over-promising and then not delivering on that promise. Where you can do so, take your time, but do not take too long. Where the situation is out of your control, give the customer an alternative option, but this again should be within the scope of your job role.
What you should avoid is giving false hope to the customer, knowing that you are unable to deliver. You should not make the customer feel awkward. Finally, yet importantly, you should always tell the truth. If you are unable to sort the complaint, say so, but seek an alternative. Do not say you are going to do something, and then not do it. Remember, once you have told your customer that you will do something then they will expect an outcome, whether positive or negative. Always give feedback, even if the complaint has only been partially dealt with.
Having considered all the above, you should be your critic first. Keep a record of how you have dealt with different situations. Share your experience with others in the team and your line manager. Also, at the appropriate time, you should share them with your customer/client.
Caring for Customers
You need to show your customers that you care, but how can we do that? We can ensure that we work to the best of our ability and have the team on your side. We can attend meetings to discuss problems, or we can be proactive and identify areas where we could perform better and make real improvements. We need to be at least one step in front of the customer. Try to see what they will see first and try to make it right.
Your customers are all individuals and as such all will want to be treated slightly differently. You need to get to know what each customer wants and try to deliver that where possible. Try to comment on the positive things that are happening in the location where you work. That might be new decoration, a new reception area or new flooring. Let the customer see that you are aware of what is happening around you.
Respect the opinion/s of your customer. If they comment on a procedure, which is being carried out, do not disregard it, try to take it on board and if possible, implement it. If you do disagree, take time to consider your answer. Get to know your customers and where appropriate use their first name. Develop a relationship, which would demonstrate trust in one another. When the customer is talking to you, be a good listener. Use the skills discussed in the listening section to show that you understand and care.
Customer care comes down to many issues, but the major underlying issue is to understand that we should treat our customers in the same way as we would expect to be treated ourselves. Remember the customer comes first, and as we discussed earlier; we all have some different customers. Our job is firstly, to meet our customers' requirements and secondly, to improve the way we do it.
We should always aim to provide our customers with outstanding service. The satisfaction of our customers is both an individual and collective responsibility. The delivery of the service and the quality go hand in hand together. Following work procedures and measuring our performance against them is important to ascertain our improvement.
Challenge convention: without the challenge, we cannot improve, and we will never move forward. Eliminate waste and wasted effort. The day-to-day issues and problems need to be owned by the member of staff providing the service. Continual education and training are vital – all of us can improve. Nobody is perfect but we should give our best all of the time.
Therefore, to sum up customer service, you will need to look at some of the areas below to help you and your team succeed and meet your company's objectives.
Presenting a positive image of yourself and your company
Promoting your company and customers services

Making regular, meaningful contact and communication with customers

Delivering a service that meets your company and customers' expectations

Regularly monitoring and improving services

Training and retraining staff

Maintain a good standard of customer service and try to evaluate where possible

Resolving customer problems efficiently

Promoting good customer relationships.
About the Author:
Tommy Taylor is the Director at T. Taylor Solutions and an accredited ISSA CIMS and ISSA CIE facilitator. Tommy has had extensive experience training cleaning and FM companies in the Middle East and continues to raise standards in cleaning through his own company in the UK, T. Taylor Solutions.