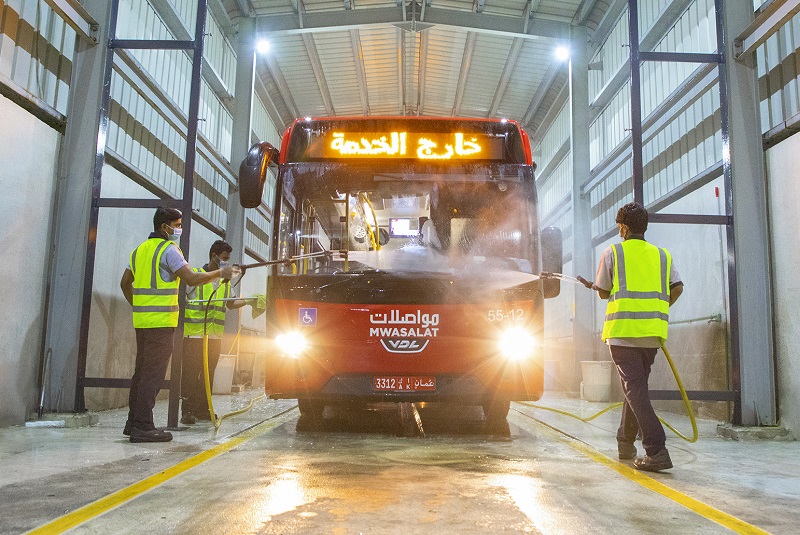 The COVID-19 pandemic has caused people to question the basics of hygiene for each and every facility they visit on a routine basis. Facilities, hospitals, buildings, airports, etc., are constantly under the scanner. And, public transport is no exception. Everyday, hundreds of people use different means of public transport. They touch rails, handles and seats. Add to it the fact that almost 70% of germs and bacteria spread by hand, public transport becomes a breeding ground for epidemics. Everytime a hand touches and retouches a surface without sanitizing in between, it transmits germs. In fact, epidemiologists go on to say that the risk of contracting the virus from someone on public transportation is difficult to gauge.
So, what can be done to ensure that our public transport remains clean and safe?
Before the coronavirus, the windows could be wiped with an ammonia substance, and the doors and handrails with a soap solution or a cleaning chemical. Now, everything has to be disinfected - the windows, the floors, the railings, all alike. At the end of the process, cleaners don a mask and spray the whole carriage with disinfectant, walking backwards. The disinfectant settles over every surface, drying in place.
Best practices to maintain public transport hygiene
• Use an EPA-registered disinfectant only. There are thousands of products promising to disinfect but are they effective? We cannot be certain. It is better to use certified products and not risk public safety.
• Conduct an intensive cleaning and sanitisation of all public transport stations and vehicles during the night time, i.e. when they are non operational.
• Divide your cleaning staff into teams and deploy them to various stations.
• Promote hand hygiene. Install hand sanitizers on every vehicle and every bus or metro station. It is also a good idea to place posters and signages to remind people to use these hand sanitizers.
• Assign a dedicated team that is responsible for cleaning the public transport facilities 24 hours a day.
• Get both the exterior and interior of the metro cleaned automatically.
• Get the intensive sanitisation done by a professional team.
• Clean and sanitize according to international controls and standards.
• Carry out a disinfectant fogging, which uses medicalgrade chemicals inside the buses.
• Use the latest sterile materials to ensure elimination of bacteria and viruses inside vehicles.
• Set up a supervisory team to ensure compliance of your new cleaning protocols.
• Conduct random hygiene tests to assess contamination levels.
• Ensure social distancing.
• Provide proper training to the cleaning staff. They are the frontline warriors. They should know how to combat the virus.
• Provide proper personal protective equipment to your staff and ensure compliance to PPE among travellers.
HIGH-CONTACT AREAS IN PUBLIC TRANSPORT
• Handrails
• Seatbelts
• Seatbacks
• Windows and controls
• Rails and poles
BEST PRACTICES AT MWASALAT, OMAN
MWASALAT was founded in 1972 and a permanent member of the International Association of Public Transport (UITP) in 1983, and is the leading public transport company in the Sultanate of Oman. It is taking great strides in the development of public transport in the Sultanate, starting with the expansion of Muscat's internal lines and external lines, as well as Synonyms provided by the company. It's services include: transportation city and intercity , transport of schools, universities and transportation in special events and private transport contracts, and taxi service.
Clean Middle East speaks to Eng. Mohammed Salim Al Ghafri, GM Shared Services, Oman National Transport Company SAOC "Sinyar" regarding the best cleaning and hygiene practices being implemented on their end.
The process followed in public transport cleaning at Mwasalat, Oman goes a step further than regular cleaning of buses. They have started a sanitization process for the fleets after return back to the base (depot) and to be ready for next day's operation. The cleaning process has alway been in place because of Sinyar's high standards, but due to the pandemic, Sinyar is following a very strict deep and soft cleaning process in addition to the sanitization process for each bus. The use of alternate technologies like cleaning robots, nanotechnology, etc for cleaning transport are also under consideration for future needs, however, these technologies shall be approved by the local authorities' prior to using them. In addition to this, the cleaning services are provided around the clock 24/7 and disinfection services are being carried for the office and depots in addition to the staff accommodation.
All this is important to ensure safety and infection control. "The biggest challenges we face are two. One is the availability of manpower scheduling at the peak hours. And the other is that the cost for sanitization is very high as compared to normal cleaning costs," says Eng. Mohammed Salim Al Ghafri.
However, there is a solution to every challenge, even the ones Sinyar faces. "These challenges are managed by assigning a 3rd party professional cleaning contractor to supply manpower for performing the required sanitization services, and to secure enough stock of the sanitization materials with proper planning due to high demand of these materials in the market," he adds.
Training the staff to deal with the pandemic
Sinyar has taken a number of measures in order to fight the spread of COVID-19 pandemic such as working from home is considered and encouraged, where quite a number of staff were and some are still working from home. Staff attend the duty with minimum capacity as possible as per the instructions of the Supreme Committee dealing with the pandemic crisis. Additional consideration is given to those employees who may be deemed to be at increased risk, while comprehensively sanitizing all company premises on a regular basis.
Meanwhile, the public transport has been suspended for 6 months. New comprehensive guide of "Safe Return to Work" has been introduced and implemented for all task and activities with ongoing safety awareness & advice on COVID-19 risks and necessary control measures to be taken such as social distancing, wearing the face masks, Staff are using alternative business meeting options such as Teams, and provision of medical PPEs, etc.
A Track & Trace team has been created to control any outbreak and lead an investigation on different categories of contact exposure and eventually providing advice, while keeping a central register for all cases and an ongoing follow up.
COVID-19 has indeed shifted the focus from cleaning and nonessential sectors to disinfection and cleaning, something that was seldom talked about. It has redefined the normal and raised awareness. As of today, a metro or taxi passenger feels safe when they see infection control and cleanliness measures are in place. And with that, we see transport companies and cleaning service providers revamping their disinfection strategies all across the world.
Extra hygiene measures taken by Sinyar
Sinyar goes a step further to ensure safety of passengers and staff during the pandemic. Here are a few:
• Installation of Sanitizer dispensers.
• Sign board stickers installed at appropriate places on board the buses.
• Temperature measurement in place.
• Reinforce wearing masks.
• Reducing the number of the passengers to 50% of the buses' capacity.