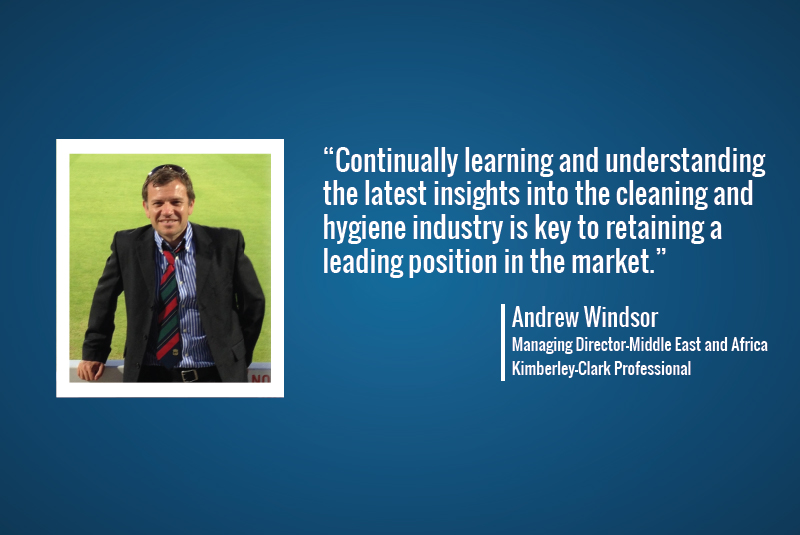 Tell us about Kimberly-Clark's Commercial Division and its growth in the Middle East.
Kimberly-Clark Professional* is one of two Kimberly-Clark business sectors. We partner with businesses to create Exceptional Workplaces, helping to make them healthier, safer and more productive. Key global brands in this segment include, Kleenex®, Scott®, WypAll* and Kimtech*. We are passionate about bringing our innovative health and hygiene to customers all over the world, including the Middle East. Our Middle East and Africa regional commercial division is located in Dubai, and we have sales and operations throughout the Middle East including in Saudi Arabia, Bahrain, Oman, Qatar and Kuwait.
Exceptional Workplaces is a key pillar of our workplace offering throughout the world and a fundamental part of the valueadded offering to segments such as offices, schools and hospitals here in the Middle East.
What is your opinion of the cleaning and hygiene industry in the Middle East and the UAE, specifically? How has it grown over the years?
The cleaning and hygiene industry in the UAE and across the Middle East is looking for the latest innovative solutions to meet customer needs. The ongoing investment in the UAE has seen the cleaning and hygiene market in the region continue to grow. With exciting projects in the Middle East such as Expo 2020 and the Qatar 2022 World Cup we look forward to continued successes in the region. We strive to help solve those customer needs by consistently delivering an exceptional washroom experience to customers in the away-from-home environment. As a leading global health & hygiene company and pioneer of many of the product categories we offer, we are uniquely positioned to continue to be the trailblazer for solutions by partnering with customers to meet those needs.
How has K-C Professional* grown in parallel with it? What has your experience been?
As the health and hygiene markets in the Middle East and UAE have grown, we have continued to bring innovative solutions to our customers. Kimberly-Clark Professional* works with these customers to leverage the value of our billion dollar brands such as Kleenex®, WypAll* and Scott® to create an exceptional away-fromhome environment that is healthier, safer and more productive.
Give us an idea of the various products in this division. Does your 'Exceptional Workplaces' division also operate in this region?
Kimberly-Clark Professional* has a full product portfolio, which meets a wide range of the tissue paper & wiping solution needs of the cleaning & hygiene industries. Our customers also appreciate our ability to offer tailored solutions such as our broad range of personal protective equipment and wiping solutions designed specifically for the critical tasks within the aerospace and general industrial industries. Our Scott® Max Hand Towel System, the longest rolled hand towel in the market, is one of the many leading-edge hand towel solutions we offer. They are manufactured with our patented Airflex* technology, which offers up to 40 per cent more absorption than other hand towels in the market. With these solutions as well as our Kleenex® branded facial tissue, we are able to truly deliver an Exceptional Workplace for our customers.
What are your products applications, and what is your target market? Any products specifically suited to the Middle East?
Our hand towel solutions can be found in a variety of awayfrom- home environments such as office building, hospitals, shopping malls, hospitals, food service, manufacturing facilities and leading hotels in the region. We provide solutions to customers while also delivering tailored solutions to other key industries such as the aerospace, where our Kimtech* Wipers provide customers with the correct tools specifically designed for the critical tasks through their maintenance, repair and overhaul areas, offering guaranteed protection to both the employees and the process - something they do not have guaranteed through the use of common imported rags.
What are your strategies to stay above companies with competing products in the market?
Kimberly-Clark Professional* prides itself in being an innovation leader that exceeds the expectations of a customers. As inventors of such solutions as the rolled toilet tissue and the Bulk Pack folded toilet tissue, we have been pioneers for over a century now, defining the industry standards we have today. Continually learning and understanding the latest insights into the cleaning and hygiene industry is key to retaining a leading position in the market. For example, our customers are increasingly interested in sustainability and controlling costs. One solution we developed is our Scott® Control bath tissue, which gained instant popularity with our existing partners as it controls the number of sheets that are dispensed thus reducing unnecessary bath tissue consumption, lowering their costs all while hygienically delivering 1,200 sheets per roll.
Partnering with facility managers adds valuable benefits to these increasingly environmentally- and cost-conscious customers. Through customer solutions like Washroom 5D, we're able to provide critical key insights, which elevate our relationships beyond just a product and a service.
Washroom 5D is a programme where we take a consultative approach to the washroom by utilizing our expertise in lean and continuous improvement to look through the five key dimensions of an exceptional washroom in Cleanliness, Hygiene, Efficiency, Sustainability and Satisfaction. Programmes like these are delivering the added value insights that help us build excellent customer relationships across the Middle East.
What is your opinion of the economy currently – how do you think it will impact the cleaning and hygiene market? What are the challenges in this region?
Dubai is an exceptional city and is showing growth everywhere as we've seen with the projects and development led by Sheikh Mohammed bin Rashid Al Maktoum here over the past years. As it continues to grow, along with the rest of UAE and the surrounding countries, the cleaning and hygiene market will grow with it. There have been challenges in the Saudi Arabia economy, but we're fully confident in the added-value benefits that our cost-in-use solutions provide. This is why our customers are looking to grow with us and why new customers are looking to partner with us.
How do you foresee the industry growing in the next 5 years? What are your future plans for the company?
Customers in the Middle East are increasingly looking beyond the products that we sell and demanding the best health & hygiene solutions. Kimberly-Clark Professional*'s ambition here in the Middle East, as well as around the globe, is to be at the forefront of this industry revolution. We'll do this through our commitment to bringing in and developing the best talent and consistently meeting the needs of our customers. I'm really excited for what the future holds for us here and am looking forward to growing with our partners across this region.