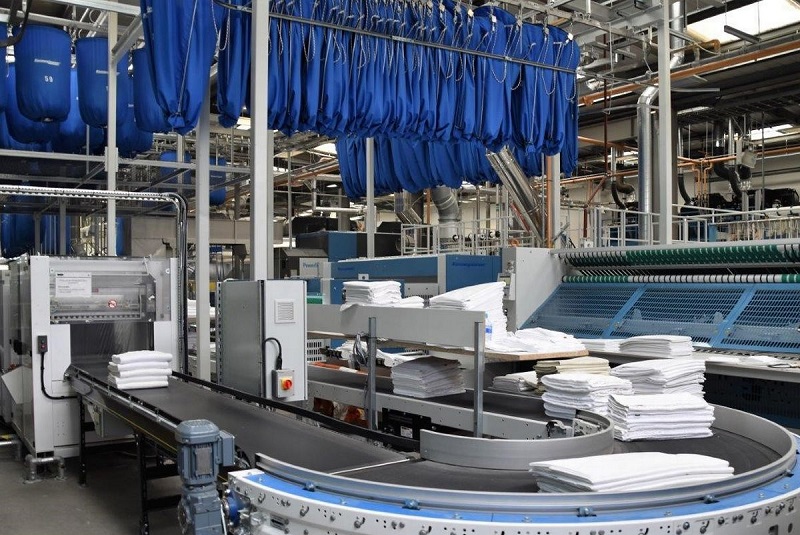 There couldn't have been a prouder time for Bubble Laundry. After all, the laundry has seen several new developments this year, including the bagging of a huge healthcare contract. Worth close to AED 50 million for 5 years, through this contract, Bubble Laundry will be catering its services to 8 public hospitals in the Abu Dhabi region. The contract is touted to be one of the biggest healthcare contracts in the UAE. Having expanded its current capacity to accommodate this contract, have been awarded another contract for rental of linen to a Group of Hospitals and clinics, covering Abu Dhabi , Dubai and Al Ain, and continuing to support our existing 45 Clients and the major healthcare players in the market.
Talking to Clean Middle East, Jorge Damasceno, the CEO of Bubble Laundry, reveals details about this contract and the journey of the laundry over the years. In the past few years, and since joined Bubbles in 2015 , with the support of Duarte Reynolds "Operations" and Rizwan Javed "Finance", Bubble Laundry has made its mark in the hospitality & healthcare sector by wining and turning the business around.
It, in fact, has a different facility to process healthcare work, which is constantly audited by clients in order to meet the required health and infection control requirements. And that's not all, among other developments, Bubble, through a Joint Venture (JV) with EFS facilities management, created First Resort LLC, dedicated only to the hospitality and healthcare sector, by providing soft services including housekeeping, concierge, and maintenance.
The company is also taking advantage of its satellite laundries and the main hub in Mussafah by entering the retail sector with Bubble Care Express LLC. These satellite laundries have started offering pickand- drop services for a more retail-based personal laundry experience. With 12 shops located in Abu Dhabi, Bubble Care Express LLC is the largest retail laundry operator in Abu Dhabi.
"The credit completely goes to the hardworking staff at the laundry, who have always provided excellent service at competitive rates and in turn have been recognized by our existing and new clients over the years," expressed Damasceno, on the recent developments. Having said that, Bubble's main achievement is its reputation as the most desired service provider in the healthcare and hospitality sector. "Bubble Wellbeing became the largest healthcare laundry service provider in the country. Our certifications stand proof of Bubble's commitment to quality, conformance, and responsibility," adds Damasceno.
MARKET & CLIENTELE
Bubble Laundry specialises in integrated laundry and textile leasing services solutions targeted at the hospitality and healthcare market. Covering all the 7 emirates, some of the biggest client portfolios of Bubble Laundry's are split between Abu Dhabi and Dubai.
However, when it comes to their approach to the market, Damasceno states that it has always been based on their strong customer service. "Bubble's approach to the market is always based on our strong customer service and finding solutions to keep their costs down and concentrate on great service delivery. On the other hand, Bubble's clients in the healthcare division receive highly specialised solutions from European standards certified by Hohenstein and Cinet, designed to answer their specific requirements and infection control. Bubble is the emerging market leader in terms of integrated laundry services offered to public and private entities. We are already well on the way to achieving this, all while maintaining excellent service to their clients," adds Damasceno.
Bubble Laundry has always relied on client's satisfaction for promoting their services. "A lot of research goes into ensuring our clients are satisfied. One way we conduct this research is through monthly questionnaires that are sent to all our clients for continuous performance initiatives (CPI)," he says.
OPERATIONS & EQUIPMENT
Bubble Laundry opened for the hospitality sector in 2014. With a footprint of 65,000 square feet and the capacity to process 65 tonnes of linen and garments per day equating to over 1.2 million pieces per week, Bubble is the largest commercial laundry in Abu Dhabi and the most technically advanced laundry facility in the Middle East.
The laundry boasts of some impressive machinery such as 4 tunnel-washers, including a dedicated garment processing unit, and a processing capacity of 25 000 garments per day, additional washer-extractors for treatment washing, specialist and garment specific ironing lines, hand-finishing stations, steam tunnels, and dry-cleaning machines. The construction of the WellBeing Healthcare Laundry was completed in August 2015. "We spent months of detailed designing and planning for this laundry. We used the expertise of people at the very top of the laundry industry in Europe and the Middle East, which ultimately culminated in the most up-to-date laundry of its kind with state- of-the-art machinery, technology, and infrastructure," explains Damasceno.
The laundry itself has a footprint of 15,000 square feet and has been specially built to meet the highest international standards for the healthcare laundry process. This is also the only laundry in the Middle East to achieve the RAL certification for healthcare processing. "This neoteric unit is operating to the highest international standards including ISO 9001, BS OHSAS 18001, EN16045 and RAL accreditations, making it the first in the Middle East with RAL-G2992/1 and /2 from the Hohenstein Institute in Germany," says Damasceno.
Bubble Healthcare is also home to the Jensen Senking Mediline tunnel washer, it is the only one deployed in the Middle East. "The Mediline Tunnel is a bespoke washer for all types of healthcare textiles and provides ticketed validation for every batch of thermal and chemical disinfection," says Damasceno. The facility also has a barrier wash, positive air pressure, and segregated receiving and releasing areas. The plant also boasts of a 30 ton (90,000 pieces) per day processing capacity with specialist areas for processing highly contaminated, fouled and infected waste as well as theatre greens.
"Our technology is also revolutionary, supporting every aspect of the laundry operation and ensuring standards and procedures are set, measured, maintained and improved. The highest levels of quality, stock management, health and safety, site maintenance and staff training are always adhered to," says Damasceno. Bubble Laundry is one the few laundries using Radio- Frequency Identification (RFID) technology, which automatically tracks every single item from the point of collection, through the washing and packing process and back to the precise delivery point, as the customer requires.
Sustainable practices are also on the top of their agenda. Damasceno says that Bubble Laundry has always recognised the importance of following the strict bio-decontamination and barrier wash guidelines that are laid down by the institutions with whom they are affiliated. The Bubble facilities is extremely energy efficient and is one of the most environmentally sustainable laundries in the world. "Over 30% of all the water used is recycled, which means we use less than three liters per kilogram of work," and in a processing of installing solar panel system to reduce the greenhouse gas emissions, the says Damasceno.
PRODUCTS AND SERVICES
Bubble Laundry offers integrated laundry and textile leasing services to clients in different sectors. "We pride ourselves in being able to provide a holistic approach to laundry services ensuring all the needs of any of our customers are met to the highest standards. From treating customer linen and uniforms, to providing a textile solution on leasing, we are always looking for the best economical way for our clients," says Damasceno. The solutions to these challenges demand more than a standard service; they require an extensive network of resources, specialist equipment, cutting-edge technology, highly technical teams with many years of experience. "Bubble offers solutions tailored to its client's needs as well as a team that you can trust to get it right the first time, every time," he adds.
BRAND VALUES
Bubble Laundry's brand values are: Innovate, Engage and Deliver. These are underpinned by their vision towards a better laundry environment "Our mission is to be the largest, most innovative integrated laundry solutions provider company in the UAE. Bubble Laundry has always promised its customers the best solutions available to their textiles challenges, and is committed to offering a reliable and punctual service delivered by highly specialised and reliable technologies, equipment and workforce, with minimal disruption of the business," explains Damasceno. And with so many new developments in their kitty, it looks like Bubble Laundry is definitely on-track.