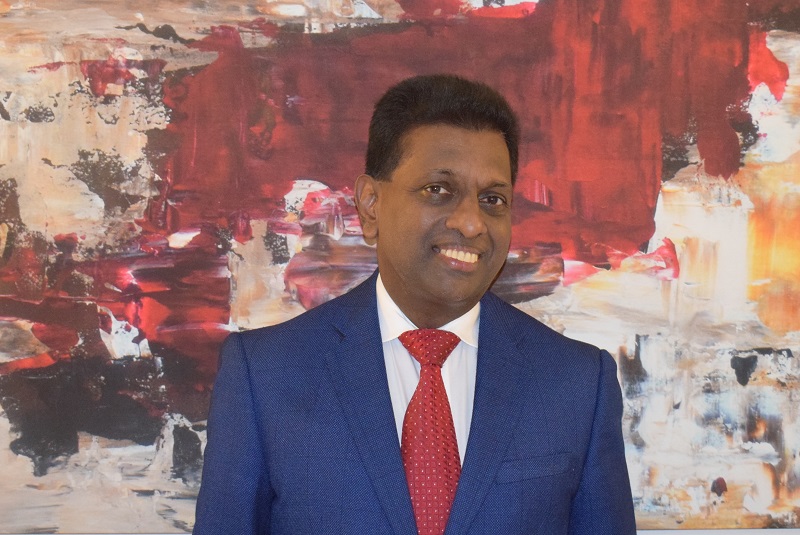 Born and brought up in Sri Lanka, John Manohar absorbed the hospitality this beautiful South Asian country is popular for. His culture shaped his childhood dream and urged him to pursue a career in housekeeping. Today, he works as the Cluster Executive Housekeeper at J5 Hotels & Holiday Homes. Let's learn more about his journey.
About you
I am native to Sri Lanka, a land known for rich natural and cultural diversity. Growing up in the cosmopolitan city of Colombo, I deeply respect diversity and enjoy working closely with people. My native country is famous for its hospitality, and being a true Sri Lankan, it was also my childhood dream and passion to work for the hospitality industry and this urge made me establish a career in this field. I completed my Higher Education from Wesley College and was certified in a housekeeping specialization course from Sri Lankan Hotel school in 1983.
I am a seasoned housekeeper with 35 years of professional experience in the hospitality industry, out of which I have successfully led teams of diverse professionals for more than 20 years. I commenced my career from scratch with the Hilton Group back in the mid-80s, when tourism was booming in Sri Lanka. Later on, I moved to Saudi Arabia in the early 90s on managerial roles and got the opportunity to work with brands of Hilton and Intercontinental Hotel Group (IHG) in several cities as Jubail, Olaya, Jeddah & Al Khobar for more than a decade. It was in 2006 that I moved to the Emirate of Dubai & joined the Luxury 5 star Resort in Jumeirah, Dubai Marine Beach Resort & Spa. I was associated with them for 5 years until I joined Chelsea Tower Hotel Apartments on Sheikh Zayed Road, which was later rebranded as Al Salam Hotel Suites. During my tenure with them, I successfully managed 1,271 units with a big team of 79 housekeeping and laundry professionals. I was able to improve the service standards and maintain the quality of the property, which also reflected in their social media scores & ratings. I am currently positioned as Cluster Executive Housekeeper to manage 3 Properties for the Swiss Brand of J5 Hotel groups(J5 Rimal Hotel Apartments/J5 Hotels Port Saeed/J5 Holiday Homes) based here in Dubai comprising a total inventory of 450 units.
What drives you, your career and accomplishments?
Because I am an extrovert and a people's person, I love to work with collaborative teams and get results accomplished. I am always open to challenges in my role and accomplish them with whole-hearted support to my team. I believe in giving my 100% to the tasks assigned to me and ensure I deliver on time. It is my passion towards my job that has been pushing my career forward.
An accomplishment that shaped your career
I played an instrumental role in the pre-opening hotel of IHG Holiday Inn Olaya, Riyadh, Saudi Arabia. I was responsible for setting up the housekeeping operations as per the established IHG standards & launched it successfully in the allotted time. During my years with Chelsea Tower Hotel Apartments in Dubai, I took it upon myself to bring the right sources of supplies to refurbish the rooms with soft furnishing at 1/3 rd of the budget and convinced the management to get this done. This improved the hotel rating in the booking engines. I always stand for renovating rooms to give a better outlook with minimum changes and maximize the return on investment for my property owners.
The best and the most challenging aspects of your job
My passion at work drives me to offer an unbelievable experience to guests for a memorable stay. I believe a smiling personality impacts your team to be motivated. I follow this throughout my work and ensure my staff are happy in what they do. This in turn reflects in happy guests and repeat business.
On the contrary, the most difficult task in handling the housekeeping operations is to get the desired budgets approved for the upkeep of processes & systems to the required standards. I believe, based on the nature of the job, there is always brainstorming and difference of opinion between finance and operational professionals.
Why is sustainability important to you
As we manage the complete process of housekeeping in the hotel operations, it is important for us to think of sustainability in every aspect of work. We live in a very challenging environment and it is everyone's responsibility to save our precious resources as we do not have a second planet. As the Executive Housekeeper, I always bring in new initiatives to have sustainable chemicals, in room amenities, garbage segregation and other related products in the housekeeping, laundry, public areas, pools and recreations. I always look for products that are self-sustainable and eco friendly. I am a strong believer of the local country's regulations on Go-Green initiatives.
Your work and profile at your current establishment
I currently manage the cluster housekeeping operations for the Swiss Group of J5 Hotels – J5 Rimal Hotel Apartments, J5 Hotels Port Saeed and J5 Holiday Homes - a total inventory of 450 units. In the capacity of Cluster Executive Housekeeper, I am responsible for day-to-day operations in housekeeping, cost control & maintaining quality standards in the hotels without any compromise. I am the point of contact for the hotels in terms of maintaining the statutory regulations from Dubai Tourism (DTCM), Dubai Municipality (DM) & Dubai Health Safety. I am always involved in the introduction of innovative & cost effective services to the hotel operations.
Your exclusive housekeeping practices
As an experienced Executive Housekeeper, I always maintain my operating procedures for various areas of work. In addition, we have international standards for following best practices by all the hotels. As our properties are concentrated on the long stay segment we maintain a minimum headcount of 60 percent and depending on the occupancy increase, we pair it with experienced outsource manpower through our contracted service partners. In addition to this process, we have outsourced the bed and bath linen on occupancy requirements. Eventually, we shall adapt the total method of rental basis for linen which will have a great impact on the investment of capital expenditure as well as less pressure on inventory and storage spaces. We find this trend is growing in the hospitality industry, justifying to the owners as a brand especially on return on investment.
As a general practice, we use the best of the eco-friendly, Dubai Municipality approved biocides to keep the hotel rooms and common areas clean and disinfected. We have weekly special task cleaning, monthly procedures for deep cleaning & quarterly preventive room maintenance processes.
The latest products and technologies in use
I make it a point to keep myself updated and review procedures consistently. Currently, there are several technological advancements happening pertaining to the linen, laundry services, chemicals etc. Considering the current COVID-19 situation, I have introduced ULV fogging machines into our operations. These are being implemented by our in-house staff after proper certified training. Cleaning is the most cumbersome activity in the whole housekeeping function. We find that robots are getting introduced in the cleaning operations. However, I strongly believe that a personal touch to the guest is much more effective than any machine cleaning.
Training provided to the cleaning staff
As part of the operating procedures in housekeeping, we provide on-the-job weekly training to the team and group training as per our monthly training calendar. We also have training from our official partners on a monthly basis on chemical usage procedures and other factors needed for the day to day operations.
Innovations that will help in your cleaning processes
As technology advances, we foresee digital solutions in managing the resources in terms of cleaning the rooms and releasing them to guests. The best way to operate is to keep minimum resources for cleaning and outsource the rest depending on the occupancy during seasonal demands. I can see the future of the hotel business moving towards a completely outsourced model where the service provider provides all in one solution required for the bath and bed in the room. The role of executive housekeeper will be more concentrated towards maintaining quality .
Unique steps being taken during COVID-19
It is a hard time across the world for the hoteliers to welcome the guests again. The travel and tourism economy is struggling and will take its natural time to regain the confidence among the guests to visit hotels/ restaurants again. The mindset of the guests after COVID-19 will be different, and as a hotelier it is the housekeeping function's responsibility to find innovative and hygiene methods to provide a clean room with high quality infection free linen. As a seasoned housekeeper, I have been working on the following:
1. Providing eco-friendly antimicrobial treated linen to control the virus, bacteria, musty odour, etc.
2. Provide clean and dust-mite free pillows that can be placed on the bed, which prevents the ingress of invisible viruses and bacteria.
3. Use antimicrobial characteristic chemicals in the laundry process.
4. Use innovative disinfectant paints/ solutions for applying in the rooms, beds, washrooms, etc.
The future
As the demand and supply is not balanced in this region, the competition is too severe for the same type of service offered by the hotel operators. It is becoming a tough situation for the hoteliers to get better REVPAR/ADR, thereby the service quality gets hampered at times. As the world goes through the digital revolution, I expect the changes in the operating model in the years to come.