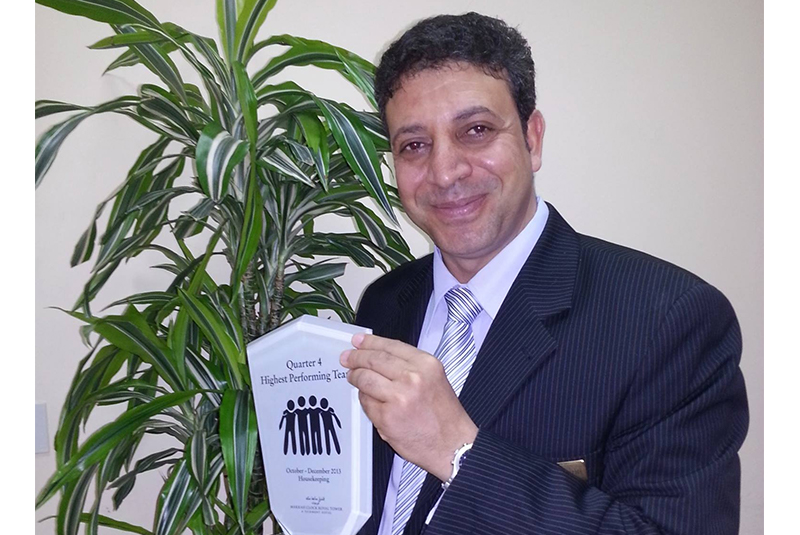 Nour El Hariri, Director of Housekeeping, Novotel Makkah Thakher City & Novotel Residences Makkah
This month, we had an interesting conversation with Nour El Hariri, Director of Housekeeping, Novotel Makkah Thakher City & Novotel Residences Makkah, a housekeeper who wears 30 years of industry experience like a badge of honor. Even after a long and illustrious career in housekeeping, Nour El Hariri is an avid learner who wants to be well versed in every technology that serves the hotel industry.

Let's hear it from him.
Your experience and years in the industry
To sum up, I started my career in 1990 as a housekeeping attendant in a four-star resort in Hurghada, Egypt. After getting trained and acquiring a working knowledge of housekeeping, I moved to the Westin Hotel, then to the Conrad Hotel as a floor supervisor. When I completed my 2 years in Conrad Hotel, I was promoted to the position of a senior supervisor. It was at this time that I successfully achieved the department goals and targets of guest satisfaction. With some unexpected changes, I took the challenge to be Assistant Housekeeping Manager. Afterwards, I moved to Steinberger El Gouna as an Assistant Executive Housekeeper. My hard work paid off well in a short span of time when I was promoted to the role of Executive Housekeeper, then Director of Housekeeping and finally a Cluster Director of Housekeeping.
Throughout my career, I worked with many international brands and worked on pre-openings and re-brandings of hotels such as Jaz Marsa Alam Hotels, Jaz Almaza Marsa Matrouh, Sun International Hotel, IHG Port Ghalib Hotels, Fairmont Clock Tower Makkah & M by Millennium Makkah, Millennium & Copthorne Alnassem Makkah, Grand Millennium Tabouk and finally Novotel Makkah (Accor) as the Director of Housekeeping. I was also the part of opening the biggest Crowne Plaza in the world.
Since 1990, I have gained a vast amount of experience in the hotel industry. It was a bit challenging to single handedly manage large complexes with different brands under one hotel as a Cluster Director of Housekeeping, but hard work eventually pays off!
What drives you and your career?
I believe in constantly evaluating and developing myself. Learning motivates me, and I always look forward to staying up to date with any new system or technology that serves the hotel industry. I also look forward to new challenges such as sudden change management and refreshment training. I believe that motivation from my leader gives me more self-confidence and has a great impact on my continued success.
An accomplishment that shaped your career
There are a couple of things I would attribute my success to. I believe that being a part of frequent pre-openings of new hotels in different chains tops the list. I also have a habit of following up on what is new in the world of hospitality. This has helped me immensely throughout my career. And last, but not the least, working in different countries has given me a lot of exposure.
The best part of your job
My achievements and awards are the best part of my job. I was awarded the best housekeeping department over all EMEA at Crowne Plaza Hotel, Port Ghalib, Egypt. Other than that, I was awarded the best housekeeping department over all Iberotel Hotels, Egypt for 5 consecutive years.
The second biggest achievement was managing Fairmont Clock Tower, Makkah. It was the biggest hotel in the world at that time, with 1,600 rooms. I also managed the opening of Millennium & Copthorne, Makkah with 1350 rooms. Now, I am driving the opening and managing of the biggest Novotel in the world with 1,539 rooms, divided into three towers in Makkah.
The most challenging aspect in your job
The most challenging part of our job is to manage large footfalls during the seasons of Hajj & Ramadan and to hire the right, well experienced and qualified room attendants in Makkah.
Why is sustainability so important to you?
I believe sustainability is very important for everyone who works in the hotel industry. If you work towards it, you will achieve guest satisfaction, retention and loyalty, besides enhancing your brand reputation.
Housekeeping practices at your hotel.
In our hotel, the current routine involves daily cleaning, maintaining furniture and continuous sterilization. High standards of hygiene are being maintained all at times due to continuous competition over all Makkah.
The latest products (chemicals & equipment) that are in use
We are using Diversey chemicals to maintain cleanliness and hygiene in our hotel. We are also equipped with hand sanitizers in order to safeguard our colleagues and guests.
We are also using upgraded high technology TASKI and Kaercher equipment's brands for daily cleaning and sanitation.
The latest technologies that ease your work
I believe that each new technology adds value to our cleaning machines and saves our time. These technologies also save cost. Nowadays we are using ride-on machines and walk-behind machines, which can clean wide areas in limited time.
Training provided to the cleaning staff
We have multiple training programs aimed at improving the skills of our workforce. We offer on-the-job training and off-the-job training. Other than that, I am focussed on practical training, which can develop my team as per the current standards.
How can cleaning processes be developed?
The best way to develop cleaning processes is to participate and learn from international seminars and also to be more active with the latest technologies prevailing in the Middle East.
The future
My immediate goal in my current position and at a company like Accor is to continuously grow and improve myself - both personally and professionally. I enjoy taking challenges and look forward to any opportunities where I can assume more responsibilities. Ultimately, I'd like to move into managing operations with a focus on strategy and development.
Right now, I'm very interested in leadership coaching, working to best utilize my skills and experience. I have been lucky to have been surrounded by general managers and leaders who have been generous with their knowledge, and I look forward to an opportunity to become a mentor for others like me within this field.
How do you think the COVID-19 pandemic should be dealt with?
This global pandemic affected the hospitality industry in an unprecedented way. It pushed experts to develop new safety and hygienic systems. I think we have to treat COVID-19 seriously and carefully. Soon, we will see the hotel industry overcome the COVID-19 pandemic. I think as housekeepers, we have to continue to use the same chemicals and sanitizers with the same techniques of treatment after this pandemic in our life as hoteliers.